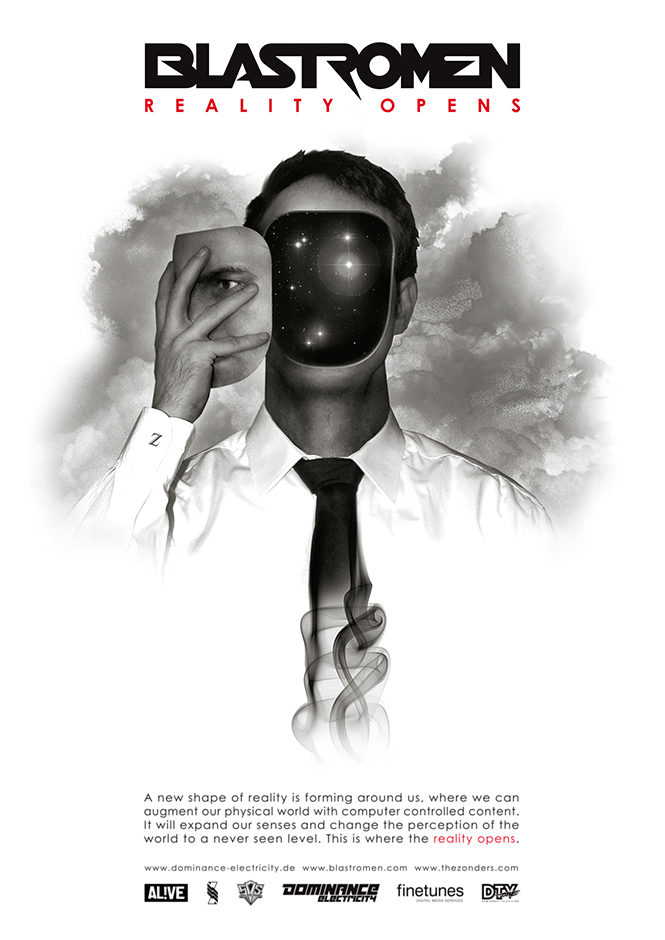 Dominance Electricity presents
BLASTROMEN
"
REALITY OPENS
" [GTIN4050486108277] DE020
DESG81300001 [02:28]
Reality Opens
DESG81300002 [06:07]
Vision Control
DESG81300003 [06:53]
Infiltrator Unit
DESG81300004 [07:16]
Sidtroen
DESG81300005 [06:08]
Sense Of Ears
DESG81300006 [06:28]
Glacier Planet
DESG81300007 [06:10]
Transportation Nonstop
DESG81300008 [07:44]
Lost Dissents

The second coming. Finlands otherworldly Electro lords Blastromen return to the
Dominance Electricity mothership to deliver their much anticipated second longplayer.
The eight new compositions featured on "Reality Opens" continue where their debut
album "Human Beyond" left off in the year 2010 and lead straight to the next level.
Sophisticated arangements with epic synth melodies and atmospheres, haunting
Electro breakbeats and elaborate vocoderized lyrics prove once again that Blastromen
are a class of their own.
Packaged in surrealistic artwork by The Zonders, the album is available
on all digital platforms as well as Digipak CD, black double 12 inch vinyl and
premium edition red transparent double vinyl inluding a super-size poster.

Die zweite Ankunft. Finnlands überirdische Electro-Lords Blastromen kehren zum Mutterschiff
Dominance Electricity zurück, um ihr heißerwartetes zweites Album abzuliefern.
Die acht neuen Kompositionen auf "Reality Opens" fahren dort fort, wo ihr Debütalbum
"Human Beyond" im Jahr 2010 endete und führen konsequent auf die nächste Ebene.
Komplex ausgeklügelte Arrangements mit epischen Synthmelodien und Atmosphären,
treibende Electro-Breakbeats und durchdachte, vocoderisierte Songtexte beweisen einmal
mehr, dass Blastromen eine Klasse für sich sind.
Verpackt in surrealistischem Artwork von The Zonders, ist das Album erhältlich
in allen digitalen Download Shops, sowie als Digipak CD, schwarzes Doppel-Vinyl und als
Premium Edition in transparent rotem Doppel-Vinyl inklusive DIN-A1-Poster.
ALBUM MEDLEY MIX
:
http://youtu.be/OghgtqUpVMY



ORDER NOW
/
JETZT BESTELLEN
via
http://www.saveoursounds.net