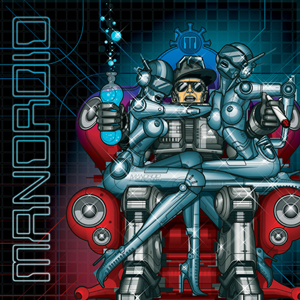 Mandroid aka Adrian D. Rataj is an old school electro master and the prince of the vocoder. Based in Barnsley, South Yorkshire in England, he became known in the late 90s with a series of outstanding releases on Ed DMX's well respected label Breakin' Records and has recently worked with the labels FBI Records (available soon at Templeplate) and Dominance Electricity. His newest ep, "Future Funk" on Dominance is out now and the time has come for his first interview...
TPK: Pleas,e describe the musical journey you have taken so far. What are your biggest influences?
Mandroid - It would be around 1981 when I first started to appreciate music fully. I heard stuff on the radio in the late 70s and early 80s that I thought sounded unusual yet melodic. Kraftwerk's "The Model", Landscape's "Einstein A Go-Go" for example. By 1983 I had become hooked on this sound. The Streetsounds electro vinyls were regularly swapped between myself and schoolmates around 1984/85 and I met a guy who worked in a computer shop (Lez, what you up to now??), who was also a breakdancer. I was able to get hold of mixtapes from him and that's how I got to find out about all the more obscure hiphop electro available at the time. When I got a tape with Egyptian Lover and Pretty Tony on it, I was blown away, I must have worn it out fully. I got my first drum machine, a TR-606 and a couple of Technics 1210s in 1989, then over the years I built up a collection of classic 70s and 80s analogue synthesizers and a love for the TR-808 drum machine. Some songs/artists that influenced me most were: Egyptian Lover "Dance" and "Girls", Pretty Tony "Get Some", Jonzun Crew "Pac Jam", Harold Faltermeyer "Axel F" and "Shootout", Paul Hardcastle "Nineteen".

TPK: You were also a breakdancer, I heard. What got you to it and what were your best moves?
Mandroid - First off I got into electro music, and then the natural progression was to start breakdancing. I also like poppin' and robotix. My best moves were power windmills and electric boogie. I was part of a breakdance crew in Leeds in 1998, "Defcon 5". We had a regular spot at the Leeds University Club - "The Faversham", we used to break there every weekend.

TPK: How did you get in contact with Ed DMX / Breakin' Records to release your first record?
Mandroid - I just sent him a demo after getting hold of a copy of his first Breakin' release "DMX Bass" in 1997. He called me up, said he liked the demo, even though it was a bit raw. Later that year, he released the first Mandroid 12" "Retrospect", including his remix of "Jammin' On My Old Piano". He somehow even managed it to make the release become "Record Of The Month" at the Virgin Megastore in London. Big thanks to him for everything.
TPK: How would you describe the sound of your own productions today?
Mandroid - Future retro electro funk. "New school Electro" is too much of a broad term, there are so many subgenres and my style is just one of many styles of electronic music available today.
TPK: On your first album "Electro Freaks Rehab Clinic" there's a song called "Analogue Addict". I hear a lot of beautiful analogue vintage sounds in your music.
What synthesizers do you use and what do you think makes them superior to all the modern easy to get VST software synths?
Mandroid - The main synthesizers I am using at the moment are the Prophet VS, Studio Electronics SE1-X, OSCar, Pro One and Juno 106. I still prefer analogue hardware to software synths. I still think the real time interaction is better with hardware, no messing about with setting up midi controllers to specific tasks or latency problems either. I've been using an Apple Mac for drums and sequencing for the past few years, replacing the trusted MPC2000. Maybe in the future I would go all software if a laptop could run loads of real high quality synthesizers with a great control interface and no latency or compatibility issues. For now I'm happy with my hardware though.

TPK: "Driving In My Turbo Mini" is probably one of your most memorable songs. Do you still drive the Mini? What's so special about those little cars?
Mandroid - Yes, I still go for blasts in the little bugger. I like tuned minis because they corner excellently and have a good power-weight ratio, so they accelerate real fast. I love it when executive types pull alongside me in their big gas guzzlers looking down on my little mini like it's a piece of shit, then it out-accelerates them... must really piss 'em off. Power to the people! Support the underdog!

TPK: I notice a lot Science Fiction themes in your music. What are your favourite movies in this genre?
Mandroid - Some of my favourite films and TV series include Star Wars (original trilogy), Blakes 7, Doctor Who (Tom Baker era), Killer Klowns From Outer Space, Bladerunner, Terminator, Aliens, Logan's Run, Silent Running, Mad Max 2, .I like most of the 70s/80s sci-fi stuff.

TPK: On your newest release, "Future Funk" EP on the German label Dominance Electricity, there's a song called "Population Overdrive". The Lyrics go "Population Overdrive, only the strong will survive. The Planets resource is running out, our evolution is in doubt". In a way, this reminds me of the classic 70s sci-fi movie "Soylent Green", about the fear of over-populated cities. What do you think our world will look like in 100 years?
Mandroid - If we can't sort out all the religion based problems we face, then it may look like a scene from Mad Max 2, post nuclear apocalypse.Alternatively, if global warming keeps up and populations keep growing dramatically then in the future we will have less land area to live, with more people to occupy it. Governments will restrict families to two children and food will be rationed because of problems with farming the land and the population growth...

TPK: What about your own near musical future?
Mandroid - There's possibly a collaboration EP on FBI Records with Remixes by Sbassship and Sblesplex. I will probably change style a little after this EP and go more synthesizer melody based like Jean-Michel Jarre, Tangerine Dream, Kraftwerk and like the older early eighties, late 70s style synth pop.

Definitely looking forward to that. I also really enjoyed the previous Mandroid EP on FBI and your track "Machine Made" on the Global Surveyor Album on Dominance. Anything else you would like to say?
Mandroid - "Special thanks to Ed DMX (Breakin Records), Santino & Stjarna (Fundamental Bass Intelligence), Matthias Weise (Dominance), Exzact and Mossadon for creating the electro alliance / electro empire communities for all things electro..."

Thank you for this interview and good luck in the future.